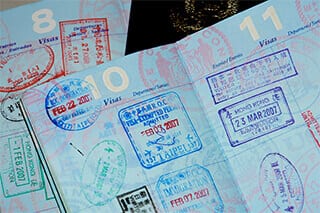 Planning to Travel Overseas
Overseas travel is exciting but also involves a lot of preparation. One of the first things that should be established before your journey is your budget. Once a budget has been determined, you are able to take the next step in planning your trip by creating an itinerary.
Whether you are going to explore a continent for a year, a few countries for six months, or one city for a few days, if you are trying to stay within a budget, it is useful to have an itinerary. A general guide of where you want to go can help you establish what you want to see and gain insight into your overseas travel expense.
Perhaps your financial budget is not of any concern to you, but budgeting your time is. Creating an itinerary will also ensure you are attacking your expedition with the best plan possible and not zig-zagging across the world. Adding or subtracting days on a trip is easier before it has started.
Once an itinerary is laid out, you are then able to select which mode of transportation would be most efficient. If your destinations have a long distance between them, flying would be a reasonable option. If you are town hopping through the countryside, a train would be the best way to get where you need to go. Find out how you want to get there, then do research to ensure you are able to purchase the dates you need.
Another big chunk of your overseas travel can come from your accommodation fees. Booking your hotel or hostel ahead of time will give you a good idea of how much of your budget is left after this necessity is taken care of. This is also a good way to ensure you won't be stuck rushing around your entire trip searching for your next night's resting spot.
This small amount of preparation ahead of time can make overseas travel more enjoyable.
Checklist for Traveling Abroad
Our top ten list of things to do so you are best prepared for your international journey:
Arrange for international flights and accommodations as early as possible to save money and to secure your ideal itinerary. Wait too long and your options will become limited.
If you are going to rent a car, check on local requirements with the car rental agency prior to booking your car.
Check with your doctor about any required vaccines or shots you will need prior to visiting the countries you will travel to. Get your prescriptions filled so you have enough to cover you during your trip.
Apply for your passport or check on the expiration date.
Notify your credit card that you will be traveling abroad. If you do not, they may put a hold on your card once overseas charges occur to protect against fraud.
Contact your cell phone provider to arrange for international coverage. They often will offer a variety of international plans to allow your cell to continue working overseas.
Travel insurance is strongly recommended. Compare and Buy a Travel Insurance Plan before you go.
Make Copies of your passports and any other important documents you will need. Print them out and carry them in a separate bag.
Who will be watering your plants, checking your mail, etc? Think about canceling any subscriptions that are delivered while you are away.
Buy some snacks, a good book, and other essentials that you may not easily find where you are traveling to.
Tips for Overseas Travel
From the US Department of State:
Related: Advice for Moving Overseas