What are the Most Expensive Cities in the World to Live In?
Many expatriates do careful and thorough research before they decide to relocate to another country. With the global expansion from multinational corporations, relocating overseas has become more and more common. Before relocating, however, there are many considerations that help determine whether moving overseas is feasible.
Which International Cities are the Most Expensive to Live In?
One important consideration for companies, governments, and expatriates is the cost of living. The cost of living is the price of goods and services in order to maintain an average standard of living. While these figures are constantly changing, Mercer released its 2018  Cost of Living Rankings were quite interesting.
Here are the 10 most expensive cities globally as of 2018:
Hong Kong (China)
Tokyo (Japan)
Zurich (Switzerland)
Singapore
Seoul (South Korea)
Luanda (Angola)
Shanghai (China)
N'Djamena (Chad)
Beijing (China)
Bern (Switzerland)
Plus 10 more bonus cities…
Geneva (Switzerland)
Shenzhen (China)
New York City
Copenhagen (Denmark)
Guangzhou (China)
Tel Aviv (Israel)
Moscow (Russia)
Libreville (Gabon)
Brazzaville (Republic of the Congo)
London (UK)
Most Expensive Cities by Region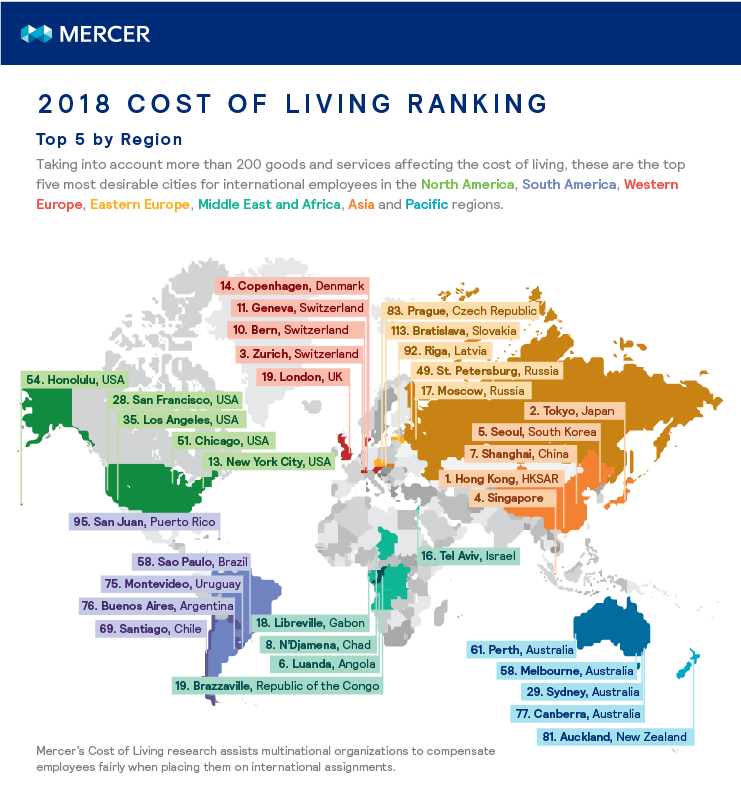 Image Credit to Mercer.
So you may ask, what makes these the top 10 most expensive cities in the world? What does this mean for me as an expatriate living overseas? How does this affect job opportunities overseas? Review some living costs in the following cities or countries:
Most expatriates spend money on housing, food, clothing, household goods, and entertainment in their new country. This cost of living index considers just that! In fact, they compared 200+ cities and the cost of 200 items from city to city. Finally, based on these price factors they were able to make the final list of the top 10 expensive cities in the world.
Related: Health Insurance Costs for Expats
Based on this data, many companies factor in the cost of living if they are going to be relocating employees to another country. For more expensive cities, companies generally pay higher wages to those individuals working in cities that have a higher cost of living. For those individuals thinking about relocating to a more expensive city, this means that you will need to earn a higher wage in order to keep up with the standard of living that you currently maintain.
Curious what the least expensive cities to work abroad are? Here's the global list of the most affordable cities to live in:
Tashkent, Uzbekistan
Tunis, Tunisia
Riyadh, Saudi Arabia
Bishkek, Kyrgyzstan
Mumbai, India
Panama City, Panama
Krakow, Poland
Bucharest, Romania
Prague, Czech Republic
Casablanca, Morocco
Also Read: