Easiest and Most Affordable Countries to Become a Citizen Of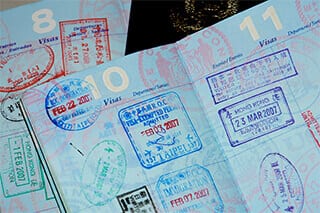 When living abroad, two passports, each from a different country, can come in handy. The only way to have a passport from two different countries is through dual citizenship. Dual citizenship is when a person is a legal citizen of two countries. The most common ways to get dual citizenship is through ancestry, marriage, and naturalization.
Dual citizenship can also offer additional security in the face of political instability. Becoming a dual citizen in a new country can allow you easier access to investment opportunities, employment options, domestic social services, and more.
Depending on the country where you get one, it can offer tax benefits, as well as greater opportunities for visa-free travel between countries that have agreements with your new home country. There are a few options for gaining citizenship in a second country. Some involve looking to your family tree; others, making an investment.
How to Get Dual Citizenship
Not sure where to start? Here are the countries where the process to get dual citizenship is relatively easy compared to other countries.
1. Ireland – Can I Get Irish Citizenship?
One of the easiest ways to become a dual citizen is through your ancestry in a country that offers jus sanguinis citizenship, or citizenship through the blood of your ancestors.
In Ireland, it's simple to get dual citizenship if your family is from the country. If one of your grandparents was born in Ireland, you are entitled to free Irish citizenship. Simply make an application through the Foreign Birth Register.
Irish citizenship confers the right to live or work in EEA and EU member countries. You can live in the country for 280 days per two years before becoming a tax resident. The ease and versatility of citizenship here is why Ireland has over 14 million passports in circulation despite having a population of just four million. Since 12% of U.S. citizens can claim at least some Irish heritage, this is a popular and accessible program for many.
2. Italy – Get an Affordable Italian Passport or Dual Citizenship
Like Ireland, Italy offers citizenship to those whose ancestors were born in the country. However, the rules are tighter and not everyone qualifies. Male ancestors can pass on citizenship with few limitations. If your qualifying ancestor was a woman born before 1948. however, she can only transfer citizenship through children born after that year.
There are additional limitations for ancestors born in Trentino Alto-Adige, Venezia-Giulia, and Veneto. Should you identify a qualifying relative, you can begin the application process with a $25 fee.
Need International Health Insurance?
Flexibility to tailor plans to suit your individual needs
Access to Cigna Global's network of trusted doctors
Convenience and confidence of 24/7/365 customer service
Plan Details
|
View Brochure
3. Israel – Israeli Dual Citizenship
Up for a change in religion? Israeli citizenship can be acquired under the country's Law of Return. The Law of Return offers opportunities for Jewish individuals, including those who convert to Judaism, to enter the country. Once there, it is easy to attain citizenship.
This broad law also applies to the spouses, children, and grandchildren of Jewish individuals in response to government oppression present in a number of countries. Israeli citizenship comes with a number of civic obligations; universal service laws require all Israeli citizens to serve in the military.
This passport also has some limitations, as Israeli citizens are not permitted to visit a number of countries. However, as one of the few countries that offer citizenship without a residency requirement, this can still be an attractive option for some individuals.
4. Paraguay Citizenship
Paraguay offers the cheapest option for citizenship. With a $5,000 bank deposit and a few years living in the country, Paraguayan citizenship can be yours. During your three-year residency period, you only need to be in the country for more than 183 days per year to become a citizen.
Unlike many other countries, there is no income requirement to establish residency in Paraguay. The country offers dual citizenship and has no restrictions on the country of origin of the applicant. Interest rates on bank deposits are favorable, so the money you invest has added earning benefits. While the country has an 8 to 10% tax rate on both capital gains and earned income, these only apply to income earned within Paraguay.
5. Guatemala – Become a Resident in Guatemala
Total investments needed for citizenship through investment become far higher as we go down the list. Guatemala has the advantage of a relatively inexpensive program, loose residency requirements (Guatemalan Residency Requirements), and the availability of fast-track citizenship. Individuals who purchase $50,000 in government bonds can apply for residency or citizenship under the Guatemalan Investment Program.
An application for full citizenship and a Guatemalan passport can be made immediately after you complete the bond purchase. The completion of the investment process usually takes between eight and nine months. As an applicant, you must be physically in the country for at least 21 days in your first year of residency and 28 days during the next two years. Rent in Antigua is affordable; a well-appointed one-bedroom apartment costs just $300 a month. This makes it a great option for individuals making the transition to living abroad. To be considered, you must present proof of health insurance and a clean criminal record, among other documents.
6. Dominica – How to Get Dominican Citizenship
The Caribbean island of Dominica offers citizenship by investment that is both relatively inexpensive and that comes with some perks. Dominica is a Commonwealth nation, which means that citizens get special privileges in the UK; this includes the ability to travel to 50 countries without a visa.
The minimum investment is $100,000, plus fees. Individuals are not permitted to submit a request directly to the Citizenship by Investment Unit; instead, for a fee, you are represented by an Authorised Agent. This agent will help you prepare your documentation and correctly fill out all forms. You will need to be present for an in-person interview. The interview committee meets just once a month. It is also necessary to submit to a medical exam and go through a thorough background check. Because of these requirements, it can take between five and 14 months to get full citizenship in Dominica.
There are a number of factors to consider before applying for a second passport. Whether an individual country offers the best expansion of visa-free travel or discreet banking for you will depend on your home country. By thoroughly investigating a range of options, you can find the right second home for you and gain the security and flexibility you are looking for.
Before you move, get a Quick Quote for International Health Insurance!
Also Read: