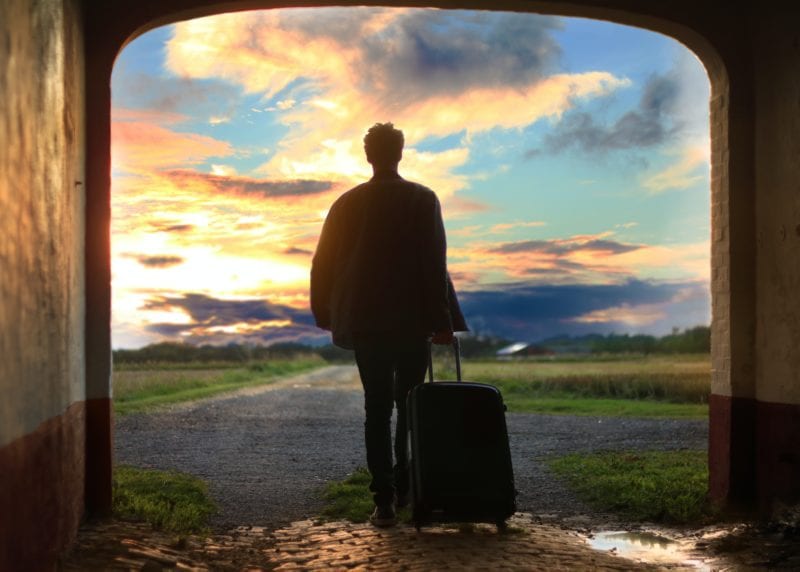 The Best Global Destinations for Day Trips
Some expats have little to no choice in where they are relocated. Their future home is determined by their employer or their university. But for those with some flexibility, picking a destination that allows for easy travel is a priority. After all, expat life isn't just about getting to know a new neighborhood. It's also about discovering an entire region! These nine cities are popular with expats and are some of the best destinations for day trips and easy travel connections.
London
It's HARD to pull yourself away from London. This vibrant, dynamic city is filled with museums, galleries, festivals, and community events – and many are free or very low cost! But London is also an amazing base for visiting Great Britain and even Western Europe.
Oxford, Cambridge, Bath, and Brighton are some of the most popular day trips from London. However, they represent just the tip of the iceberg. Communities like Colchester – Britain's oldest recorded town – are often overlooked by day-trippers even though it's just two hours away. Expatriates could easily spend half a year exploring the small towns of just one region, like nearby East Sussex, and still not exhaust all their options. Going further afield is equally easy and affordable. Savvy expats keep an eye out for cheap flights to Europe, as well as discounted train trips to Paris and Brussels.
Paris
With outstanding transportation connections and a long list of popular nearby towns and cities, Paris is another fantastic destination for expats looking to explore France and Western Europe. Versaille and Giverny are close by, of course, but Parisian international citizens know to get off the beaten trail for some less busy sites. Places like the coast of Normandy, about 2.5 hours away, is downright quiet in late autumn, winter, and early spring. The same goes for the nearby Loire Valley. Bus companies like BlaBlaBus, FlixBus, and OUIGO offer spectacular sales for destinations like Nancy and Tours. With a bit of luck and a flexible schedule, you can find fares for as little as 1 Euro.
Istanbul
One of the world's most connected cities, thanks to the city's massive airport and Turkish Airline's extensive flight network, Istanbul is also a terrific base for day trips. Those looking to escape Istanbul's intensity will appreciate Kilyos, a seaside resort on the northern coast of Istanbul, Belgrad Ormani, a 5000-hectare forest just 40 minutes away from the city center, and the fishing village of Şile, which boasts miles of gorgeous white sand beaches along the Black Sea. Those who appreciate history will enjoy exploring Gallipoli Historical National Park, which memorializes the First World War, the ruins of Troy and its Temple of Athena, and the 15th-century fortress of Kilitbahir.
Toronto
Toronto offers a full year of day trip activities for expatriates, no matter the season. Blue Mountain ski resort provides excellent skiing, snowshoeing, and sledding in winter. In summer, Coburg beach is just one of several local places for sun, sand, and swimming. Algonquin Provincial Park, one of the oldest protected parks in North America, features superb wildlife viewing and nature activities like kayaking and camping in spring, summer, and fall. For more cosmopolitan experiences, Niagara Falls is just a few hours away. Equally close are Niagara Escarpment and Niagara-on-the-Lake, two of Canada's most popular wine regions.
Cape Town
Many international citizens think of Johannesburg as the hub for southern Africa's expat community and there are a lot of great day trips in the area. But Cape Town is often overlooked. There are tremendous opportunities for exploring South Africa's wine country, including Paarl, Franschoek, Stellenbosch, and the Cape West Coast. Nature lovers will appreciate the close proximity to places like West Coast National Park and Simon's Town. The area's most important historic site, Robben Island, is a 45-minute boat ride from Cape Town. It's best known as the site of Nelson Mandela's imprisonment. Today, former inmates lead tours to share the island's history.
Melbourne
Australia's large and often unforgiving territory doesn't easily lend itself to day trips. However, if any city is positioned to encourage expats to explore, it's Melbourne. Cities like Adelaide, Canberra, and Sydney are the perfect destinations for weekend escapes (especially when there's a good seat sale.) Meanwhile, expats looking to explore Hobart and Tasmania can get there via flights or ferry. For those who want to have adventures a bit closer to home, the Great Ocean Road, Philip Island, Mornington Peninsula National Park, Ballarat, Geelong, and the wineries of Yarra Valley make for memorable day trips.
Tokyo
Japan's incredible bullet trains have opened up seemingly endless opportunities for quick day trips from Tokyo. Mount Fuji, Katori's shrine and canal, Nagano's famous snow monkeys and hot springs, and the religious sites of Kamakura are just some of the unforgettable destinations that are just a few hours from the capital. Less busy spots like Enoshima offer shrines, gardens, cafes, shopping, and onsen (spa) experiences with fewer crowds. If you have a bit more time, easy weekend escapes from Tokyo include Osaka, Sapporo, and even Seoul.
Bangkok
Bangkok is one of the world's busiest expat hubs and, much like London, it can be hard to pull yourself away from all the city has to offer. But doing so is tremendously rewarding. Many day trip destinations take only a few hours. For instance, the Damnoen Saduak Floating Market, in the Ratchaburi Province, is just an hour and a half from Bangkok. Other easy trips include the ancient city of Ayutthaya, a certified UNESCO World Heritage Site, and Kanchanaburi, an emotional destination that's home to the River Kwai bridge and JEATH War Museum. Sunseekers will love Jomtien Beach at Pattaya or Koh Si Chang, where you can catch the ferry to Koh Si Chang Island.
Mumbai
Pulsating Mumbai is filled with expatriates and endless opportunities for foodies and fans of history and cultural exploration. But just outside the city boundaries are plenty of rural and urban excursions. For instance, Elephanta Island isn't a destination for elephant lovers at all, despite the name. It's home to the Elephanta Caves, a UNESCO World Heritage Site. This is an important religious site where the caves are cut directly from the natural rock walls. Matheran Hill, not far from the city center, is a car and pollution-free oasis that's popular for hiking. Meanwhile, the city of Nashik, a few hours away, offers a laid-back pace and it's the gateway to India's leading wineries. Finally, the city of Pune is nearly as bustling as Mumbai. It's home to incredible historical artifacts and sites, including Aga Khan Palace and Gandhi National Memorial.
Related: